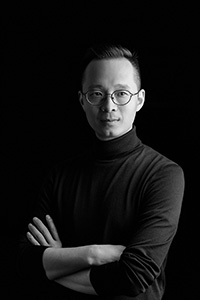 ---
LU Yun
Founding Partner/ Principal Architect
RIBA Chartered Architect
A bachelor of architecture with a background in traditional domestic architecture education focuses on architectural practice in pursuit of metaphysical reflection in the practical process continuously.
Mr. Lu found MUDA both in Beijing, China, and Boston, U.S, in 2015 and established the Chengdu office in 2017, leading and conducting design practices in China and around the world. Prior to the establishment of MUDA, Mr. Lu worked for MAD and German GMP International Architectural Design Firm, in which he participated in the design of the Lianyungang Industrial Exhibition Center, Hangzhou South Railway Station, Tianjin Binhai Cultural Center, Beijing Central Park Complex, and many other large-scale projects, forming the overall construction control ability and practical experience of the whole design processes.
Mr. Lu now focuses mainly on design practice, leading the MUDA team to win the United States Residential Stadium International Competition Award, Xinglong Lake Bookstore Competition, etc. He was also a principal architect in Garden Hotpot Restaurant, Xinglong Lake CITIC Bookstore, M50 Art Hotel, Haikou Visitor Center, and TCM Museum of Pengzhou.

TEAM
Zhang Mei, Liu Meijun, Li Aidong, He Fan, Rong Dian, Li Hao, Zeng Ying, Fu Yao, Chen Xiaoyi, Qi Fen, Wang Shuo,Wang Jinghan,Zhang Tianlin